In the Classroom
November 11, 2019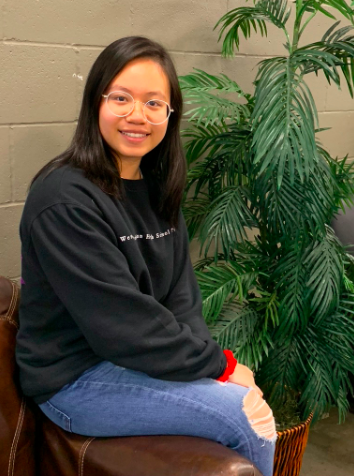 Mr. Wright's Government classes recently completed a series of debates. Students picked topics from an extensive list of current events, or they opted for an original topic, upon approval. Then they chose partners and opponents. Next, they researched their issue, created an opening statement, and prepared four questions to ask their opponents. Students also had to anticipate answers to the four questions their opponents might ask them, without knowing for sure what those questions might be. Likewise, their closing statements couldn't be pre-scripted since they had to address concepts that arose during the course of the debate. Students had to be prepared for and practice a multitude of scenarios and answers. Mr. Wright observed, "Some of these kids are willing to put in so many hours of practice."
According to Mr. Wright, senior Tram Nguyen especially excelled during her debate. Originally, she and her partner had planned to argue against lowering the drinking age from 21 to 19 together. Then, through circumstances, she found herself without a partner after all. Undaunted, Tram decided she could handle the 20-minute debate by herself. Mr. Wright says it is "fairly unusual" to get a high A on the debates, but that's exactly what Tram earned. This is especially impressive considering that English is Tram's second language. "Tram did a remarkable job in her second language--English--in expressing her points of view during her debate," commended Mr. Wright.
November 06, 2019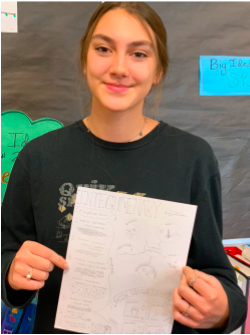 Mrs. Little's Anatomy and Physiology students have been studying the integumentary system--that's the skin--using a new learning strategy called sketchnotes. These are visual notes the students create using both text and drawings. According to Mrs. Little, research shows that "drawing slows your brain down and helps you with retention. So, by slowing you down, you learn better and faster."
The classes started by watching a short TED-Ed video on why skin sometimes itches. Then students had three minutes to depict on index cards some of the big ideas that they retained, using about 50% illustration and 50% words. Mrs. Little explains, "Drawing helps you synthesize your own understanding of something because you have to understand it to know what to draw."
Once students had mastered card-sized sketchnotes, they moved on to a full-sized project. Within a 60-minute class session, students illustrated and labeled the seven sub-layers of the skin with an identifying feature of each layer. Also, they depicted the five signs of inflammation.
Mrs. Little noticed two students who created particularly excellent sketchnotes. "Emma Molony's is phenomenal. She focused in on key details without being superfluous. It is really clear. Also, Rachel Hultgren's: her aesthetics stand-out, and her organization is clear and un-muddled."
Westside students aren't the only ones learning how to use sketchnotes. On October 10th, Mrs. Little taught other educators about sketchnotes at the ACSI Teacher Convention.
November 04, 2019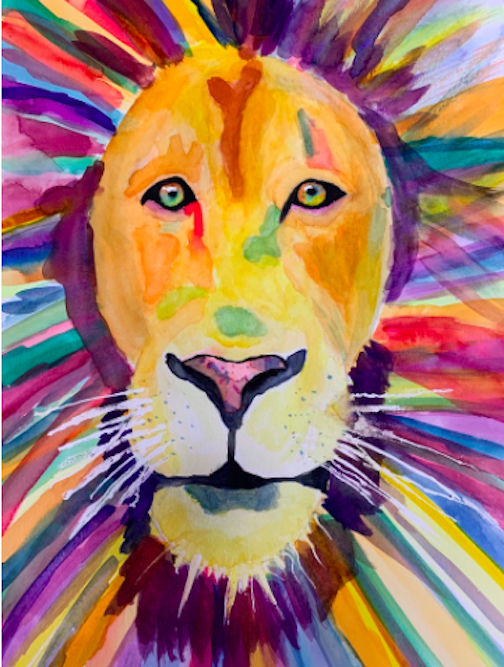 Mr. Lindsley's Bible 9 classes recently completed a project where they artistically represented what it means to be made in the image of God. The project was partly an assessment to make sure that the students were grasping what the classes had been studying and partly to see if they were able to take those lessons to the next level. Mr. Lindsley explains, "The idea was not just 'What did we learn in class?' But 'What does this really mean for my life?' And then to artistically represent it. So, moving from Bible knowledge to life application." He adds, "A key concept of the image of God is that we were made to exercise dominion over this earth by reflecting His character."
Mr. Lindsley said, "Many students did a really good job with this, putting a lot of thought and effort into it." He was particularly struck by Mia Moyer's work, which features her artistic depiction of God's image plus a written explanation. He stressed how much her project showcases considerable thought and hard work. "She did a good job artistically, a good job tying it into what we talked about in class, but then she did additional research in the Bible to tie it into Scriptures that we hadn't even talked about. It is really clever."