In the Classroom
Posts Tagged "Education"
December 10, 2019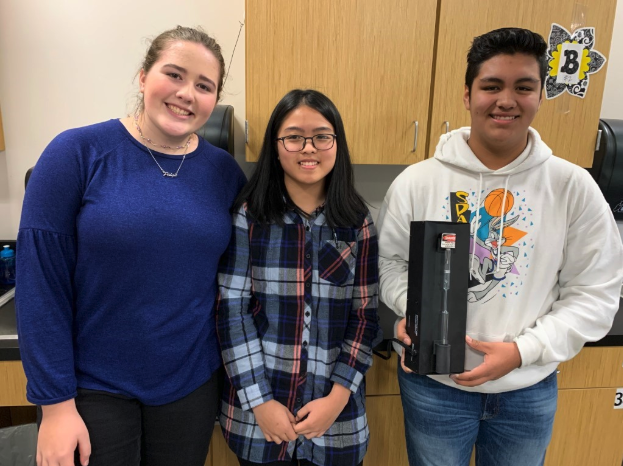 Students have been elbow-deep in lab experiments in Mrs. Galloway's chemistry classes recently. In November, freshmen chemistry students Eduardo Vargas and Paige Hampton and junior AP Chemistry student Linh Truong decided to share their growing expertise at Westside's Open House by setting up and demonstrating a total of six experiments for the prospective students who visited the chemistry lab.
Mrs. Galloway described Eduardo, Paige, and Linh as talented, inquisitive and motivated students and was pleased when they volunteered to share their chemistry knowledge as a way of engaging prospective students. "These students did such an exceptional job of being welcoming. They just took the ball and ran with it," commended Mrs. Galloway. Eduardo enjoyed "showing students the electromagnetic spectrum produced by various gases such as hydrogen, neon, and krypton." Students looked through a spectroscope at gas spectrum tubes, which allowed them to identify which gases were present based on their unique color signatures.
Linh described another experiment where they used a Vernier gas pressure sensor to monitor pressure changes and then analyzed the data with Logger Pro software. "We were showing that pressure and temperature are directly related: If the temperature increases, the pressure increases," shared Linh.
They also demonstrated a double-replacement reaction, which is a reaction that occurs when parts of two ionic compounds are exchanged and make two new compounds. Linh explained, "We put lead nitrate and potassium iodide, which are both clear solutions, together. When they reacted, they created a yellow opaque solution."
Paige said that the experiments they reproduced at the Open House were ones they had recently completed in class. "Some of my favorite ones are easy to set up and don't take very long, but you can easily see what is going on, and they are very hands-on, so the prospective students could be hands-on too." She sums up the day saying, "I love chemistry, and it was fun meeting new students."
Recent Posts