News You Can Use is Westside Christian High School's monthly newsletter sharing updates regarding academics, athletics, monthly schedules, and other information for our students and their families. Below you will find our archived News You Can Use newsletters from the current academic year.

Westside Christian High School will continue to provide updates regarding COVID-19 updates and processes. Mr. Hynes sent out a letter on November 12th with the latest information regarding the 2-week Pause. You can view his letter and any recent updates online at https://www.wchsonline.org/community-life/coronavirus.cfm.
Thank you for continuing to keep Westside Christian High School a safe place to learn.
There will be no school or cohorts the week of November 23rd for Thanksgiving Break. We hope you enjoy your time together with your families and look forward to seeing you on November 30th. We are thankful for all the families of the WCHS community!
Academics
College Fair
The NACCAP Christian College Fair we typically host each fall is now holding a series of virtual fairs and there's a group of them this week. They've separated the fairs by the location of the COLLEGE. See the links below to register and attend any of them:
Monday, November 16 (7 - 10 PM ET) - Virtual Fair Northeast Colleges (schools in CT, DE, MA, MD, ME, NH, NJ, NY, PA, RI, VT)
Tuesday, November 17 (7 - 10 PM ET) - Virtual Fair Colleges in FL, GA, NC, SC, VA
Wednesday, November 18 (7 - 10 PM CT) - Virtual Fair Colleges in AL, KY, LA, MS, TN, WV
Thursday, November 19 (7 - 10 PM PT) - Virtual Fair Northwest Colleges (schools in AK, ID, MT, OR, WA
Going to College
Tonight is the last of our Going to College series for the fall. It is a presentation from Ian Rice of Rice Financial Services titled "How to Pay for College with Other People's Money."
ASAP to register for the 7-8pm event.
Parent-Teacher Fellowship
PTF Meeting
The next PTF meeting will be on December 3rd at 6:30pm in the School Library. If you have questions about the PTF or would like to get involved, please reach out to Teresa Boyanovsky at
ptf@wchsoline.org
or 503.515.3821.
Music
Christmas Concert
Save the Date for Westside Christian High School's Annual Christmas Concert, December 15th 2020, 7:00 p.m.
Enjoy an evening of refreshing Christmas music as Westside's Music Department presents a YouTube Live Premiere of "A Westside Christian Christmas: Christ is Coming to the Earth this Night" on Tuesday, December 15th, at 7:00 p.m.
The concert will feature live recorded footage of this year's Concert Choir, Soli Deo Gloria, Concert Band, and Ignite Worship Team, singing and playing selected Christmas favorites, as well as a few other selections.
Please mark your calendar for this event amid these trying times. You'll hardly hear of a Christmas Concert anywhere this year. At Westside, we have worked diligently to allow our students to safely sing and to play. Come experience what good things our students have been able to accomplish under some adverse circumstances and without a fall full of regular rehearsals. You'll be blessed and amazed at what they've achieved. Join us on December 15th!
David Dugan named to the Oregon All-State Wind Ensemble!
Congratulations to David Dugan (pictured left) for his inclusion in the Oregon All-State Wind Ensemble, the highest form of honor band recognized in the state! David auditioned in October and received his acceptance to the band over the weekend. He works very diligently on playing the trumpet with consistency and excellent tone. A junior at Westside, David is now recognized as a one of the finer trumpet players in Oregon.
For questions regarding WCHS music programs, contact Mr. Will Fox at fox@wchsonline.org.
In the Classroom
WCHS teachers are continuing to adapt to provide exceptional education. Below Mrs. Little shares some of the fun activities from her recent science cohorts.
AP Biology
AP Biology students have been learning about how proteins are created and transported in cells. This image shows students studying a watercolor painting of the interior of a cell. Everything in the painting is to scale and drawn from images taken with electron microscopes and other scientific imaging techniques.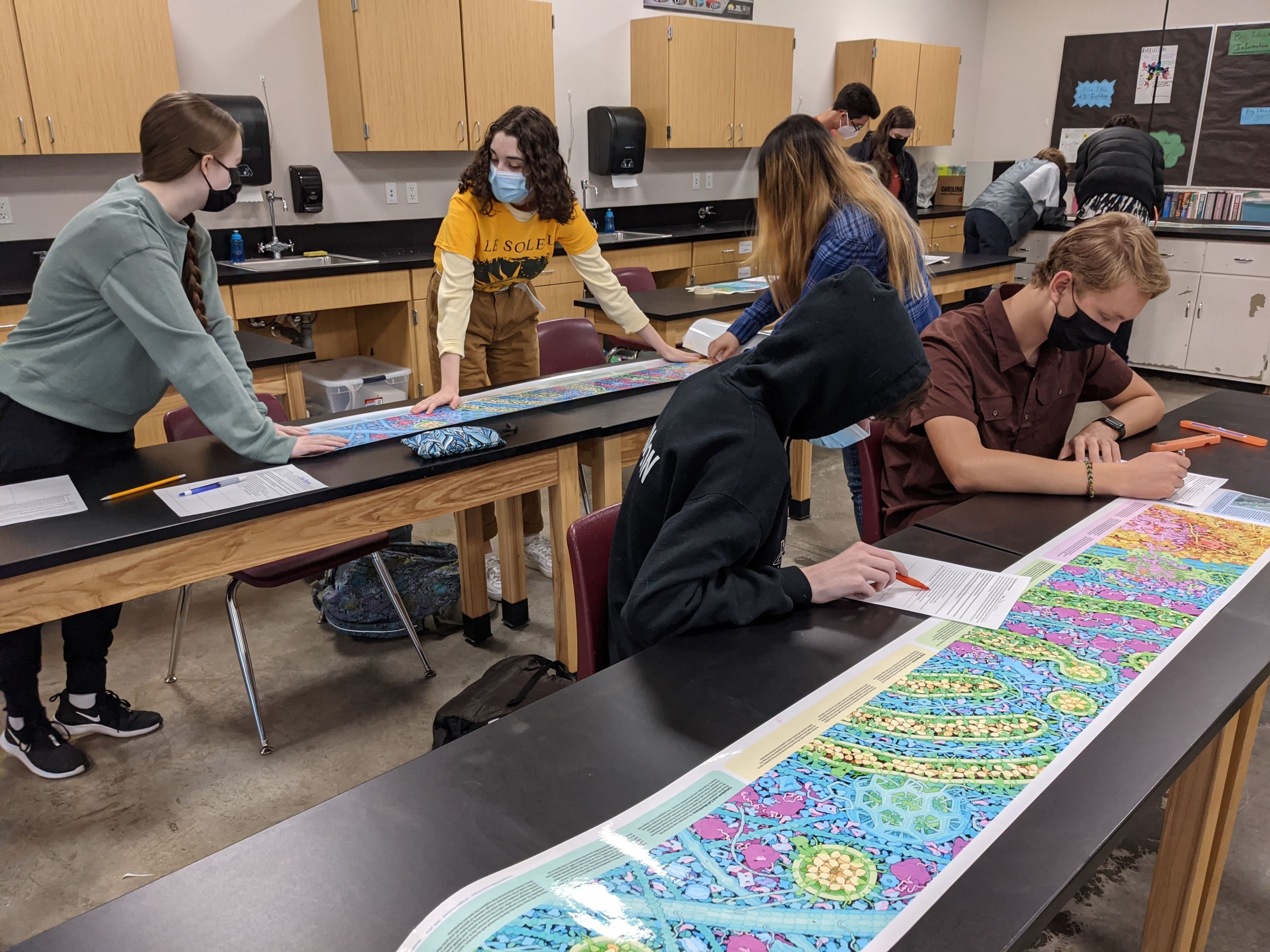 Anatomy & Physiology
Anatomy & Physiology students are currently learning about the skeletal system. Students got to sort through a box of plastic bones and assemble a life-size skeleton during a recent cohort. This week they will be using white clay to sculpt different types of vertebrae. They will then take these home to label and use them to learn specific vertebrae terminology.
Spiritual & Community Life Update
Chapel
This week's chapel speaker is Dan Jocoy. Dan will continue to share on this year's topic of peace. Dan will share what he has done, in recent months, to keep anxiety at an arm's distance. He hopes that these suggestions may be useful to our community.
Dan is a long time coworker and friend of our very own, Will Fox. For over 30 years Dan has served Douglas County in Southern Oregon as a pastor, mentor & friend. A year ago Dan was privileged to be in Guatemala serving in a clinic, and Wendi, his wife, serves each year at an orphanage in Haiti. For fun, Dan plays guitar, banjo, enjoys surfing, cycling and being with people.
Community Speaker Series
Thank you to those who attended our first Community Speaker event of 2020-2021. If you were unable to attend, you can watch a recording of the event on vimeo. Please check your email or family portal for the link and password.
For questions regarding WCHS Spiritual Life & Chapel, contact Mrs. Cindy Streimer at streimer@wchsonline.org.
With Love Fundraiser
There is still time to help Oregon youth in Foster Care. With Love has made it simple for WCHS families to donate, all you have to do is click on the link below and choose the gift(s) you would like to purchase.
https://www.amazon.com/hz/wishlist/ls/2GE6OC35R9ZS6?ref_=wl_share
For the mailing address, simply click on the With Love address and it will go directly to them. They will then deliver your donated gift to a child in foster care for Christmas. This list has been especially populated for the WCHS community, so let's work together to bless these children by clearing the entire list.
Tech Tip
Google Classroom Tech Tip: Unable to load a website or link?
Try pausing the ad blocker for that site
Red stop sign icon in the upper right corner of browser windows
Select pause for this website
If it's a YouTube video, the video might not be approved for the WCHS network. Contact your teacher if it was part of an assignment, they can approve the video.
If the GoGuardian content filter was blocked, and you are searching for something that is a legitimate need to access for a class, contact your teacher and ask them to coordinate with the help desk to have it unblocked. Unblock requests must come from a staff or faculty member.
Support Options:
Chrome Support: support.google.com/chrome
Call Campus Operations at Extension 1232
Stop by Campus Operations Center in Room 139