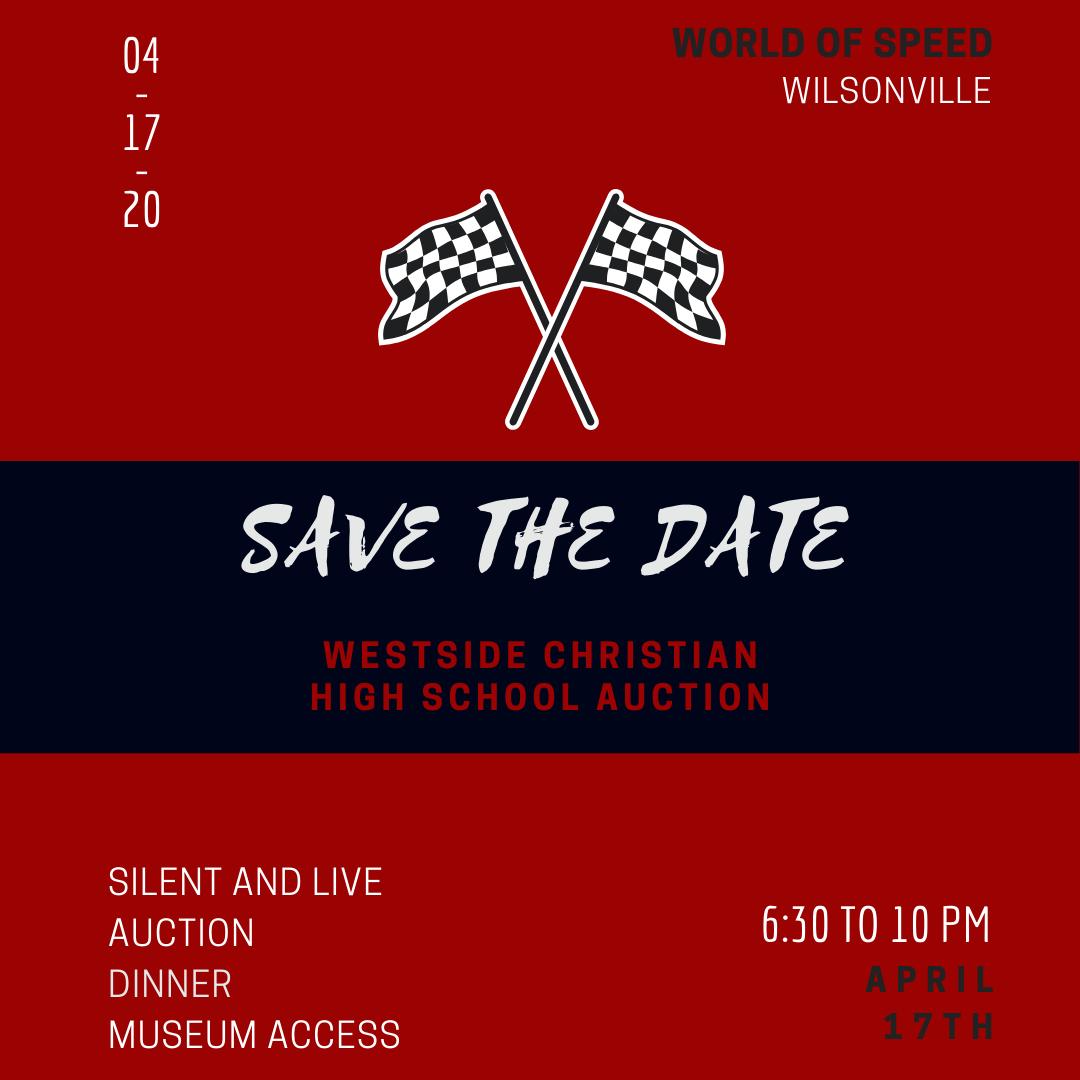 Save the Date for Westside Christian High School's Auction
Westside Christian High School will be hosting an auction at World of Speeds - Motorsports Racing Museum in Wilsonville, OR on Friday, April 17th, 6:30-10:00 PM. There will be a silent and live auction, dinner, entertainment and access to the entire museum. All proceeds will support financial aid, facility updates, and technological enhancements in the classroom. Start your engines for a night of fun and community.
Tickets will go on sale March 1, 2020.
Donating Auction Items
For almost 40 years, Westside Christian High School has offered exceptional education to families in the greater SW Portland area. We would love for you to partner with us! Would you consider making an in-kind donation for our auction? All donations are tax-deductible and will help Westside Christian High School continue to provide an outstanding education to our students today and those to come.
Click here to fill out the procurement form.
If you have any questions, please contact Leah Yevseyev at leah@wchsonline.org or 503.697.4711 x1241.
Table Sponsorships
The Westside Christian High School auction has four table sponsorships options. A table sponsorship offers a unique opportunity to partner and supports Westside Christian High School. See below for details regarding table sponsorships.
To become a table sponsor, please call Leah Yevseyev at 503.697.4711 x1241 or email
leah@wchsonline.org
. There are limited spots available. For sponsors to have their logo on the printed invitation, please confirm sponsorship by
February 20th
.
Bronze sponsor - $1,000
An 8-top table
Big Screen Acknowledged as a Bronze Sponsor
Logo in Auction Catalog
Silver sponsor - $3,000
A premium 8-top table
Premium Seating
Big Screen Acknowledged as a Silver Sponsor
Logo on the printed invitation
Logo in the Auction Catalog
Gold sponsor - $5,000
A premium 8-top table
Big Screen and Lobby TV Acknowledged as a Gold Sponsor
Logo on the printed invitation
Half-page ad in Auction Catalog
Presenting sponsor - $10,000 (only one available)
A premium 8-top table
Presenting sponsor sign at the front entry of event 24 x 36"
Lobby TV Acknowledgement as a Presenting Sponsor
Big Screen Acknowledgement as a Presenting Sponsor
Large logo on Printed Invitation
Full-page ad in Auction Catalog
Soccer Field Sign and Gym Sign at Westside Christian High School (one-year term)