Thank you for visiting the WCHS theatre!
Westside christian high school THEATRE PRESENTS . . .
Purchase tickets now for this must see production. Show dates and times are at the end of April 2023. See below for complete info.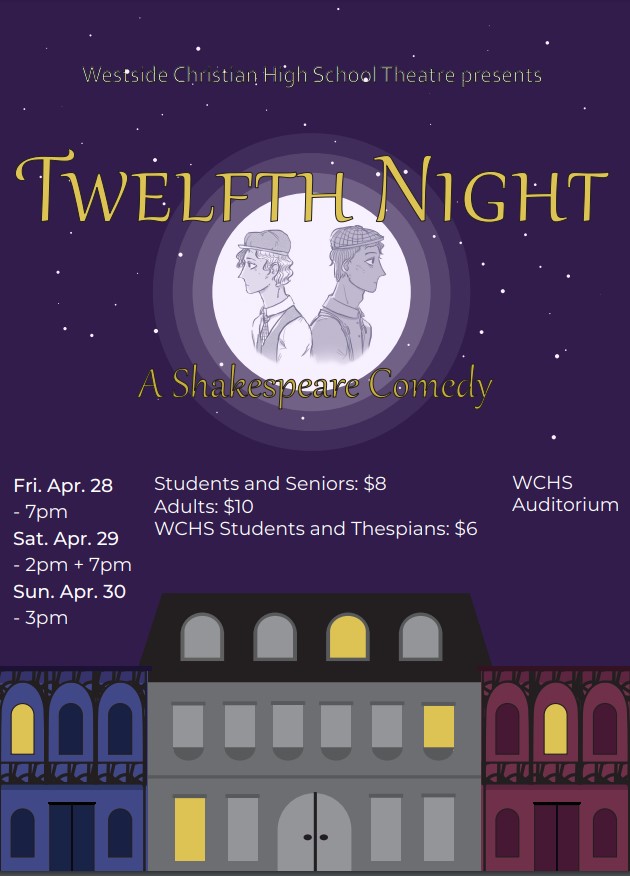 WCHS Theater presents . . .
Please join the Westside Christian High School Theatre Department in their production of TWELFTH NIGHT A Shakespeare Comedy.
Dates
April 28th at 7 pm
April 29th at 2 pm and 7 pm
April 30th at 3 pm
Tickets
$10 - General Admission.
$8 - Students and Seniors
$6 - WCHS students and Thespians
Make your donation here: Donate Here!
Be challenged and entertained through a diverse training of a variety of theatrical genres.
Westside Christian High School offers a variety of opportunities for students to be involved in drama. We produce two full-length productions per school year, one in the fall and one in the spring. Our emphasis is on diversity in training, so we produce a variety of theatrical genres in order to challenge and entertain. We produce a musical every few years.
Take a look at the pictures below that showcase the great talent that has been a part of Westside theater. You can also visit our past productions by clicking play.
Westside Christian High School's Drama Department performs two full productions most years. It is led by our English Teacher and Theater Director, Shirly Tagayuna-Zimmerman (Mrs. T).
Click Play below to hear from Mrs. T.