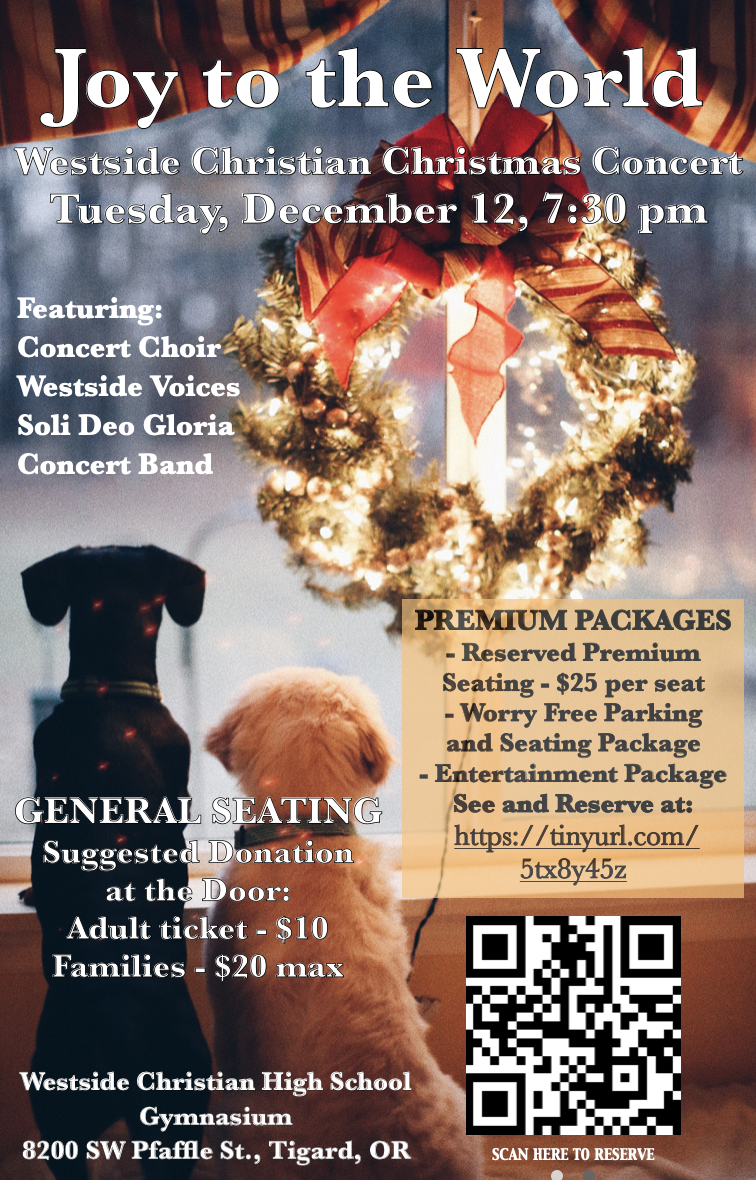 Joy to the World
Concert features Westside's award-winning ensembles: Concert Band, Concert Choir, Westside Voices, and Soli Deo Gloria.
You don't want to miss this special event. It will be a great and fun concert. Join us on Tuesday, December 12th at 7:30 pm.
Returning again this year is reserved premium seating. To purchase your premium seats now, click here.
Department Overview
Westside Christian's championship-winning choral music program strives to discover and develop the talents God has distributed in the body of Christ and then offer them back up to Him as an act of worship. Students are trained in sight-singing/playing, music theory, vocal and instrument production, stage presence, and various styles of musical literature, including praise and worship.
The goals for the Westside Christian Music Department are to:
Glorify God

Sing with excellence

Show the love of Christ
As students apply these goals, their lives are enriched and transformed.
There is a place in Westside's music program for all interested students. Music programs include:
Soli Deo Gloria: Students also have the opportunity at the end of the school year to tryout for the varsity mixed ensemble, Soli Deo Gloria, for the upcoming year. This varsity group has an annual tour singing around Portland through the holiday season.
Concert Choir: All Soli Deo Gloria singers join our choir to comprise our Oregon 3A State Championship Concert Choir. Each year the Concert Choir competes in a District choral competition to qualify for the Oregon state choral competition. Westside's choir has qualified to compete in the OSAA State Choral Competition for the past seventeen years and has won the State Championship for the last thirteen consecutive years. By invitation only, the choir has participated in the National Festival of the States in Washington D.C. and at Carnegie Hall. They have also performed at the National Cathedral and the Russell Senate Building.
Worship Class (Ignite): In the fall of 2005 Westside began offering a worship class. In this class students discuss the role of worship in the life of the believer and develop skills that aid students in leading the body of Christ in corporate worship. These students serve the student body by providing musical leadership during the weekly chapels.
Concert Band: In 2016, Will Fox, Music Director, started the Westside Christian High School Concert Band. In only its second year, the Concert Band won its first state championship and then won again in 2019 with only 9 students. The Concert Band continues to be a growing program at Westside Christian offering the opportunity for students to learn and develop their musical talents.
Drumline: Westside Christian offers a unique opportunity for students to learn to play marching percussion instruments in the WCHS Drumline. This group is open to all students and provides an exciting and dynamic performing arts environment that trains them to work together with precision as they play the rhythmic patterns inherent in a marching drum line. Drumline performs primarily at student athletic events, as well as community festivals.
WCHS Music - Tradition of Success
Ending the Year on a High Note! Westside Christian High School Captures it's 14th Consecutive Choir State Championship and its 3rd Consecutive Band State Championship
Westside's Concert Choir and Concert Band continued their winning ways as the easing of the pandemic allowed live music to be on display again this spring at the Choir State Championships on May 5th and the Band State Championships on May 12th.
The Concert Choir performed well and won their division by over 100 points. They achieved all of the goals Mr. Fox had set before them, including performing before the Oregon Music Educators Association annual conference in January, having the highest score at their state-qualifying festival, and performing at a high level at the state championships.
The Concert Band played well and consistently! Judges are amazed at how in tune our band plays, especially for its size. Mr. Fox says, "Our band students have so much fun together. They consistently have me laughing, but they're also committed to working hard and playing musically. And they've been rewarded for that!"
On a side note, Will Fox, Westside's Music Teacher, is among the most decorated director's in the history of Oregon's music state championships. He's the only director ever to have won ten consecutive state championships. He's currently tied for the most choir state championships. He's one of only two directors who has ever captured state championships in both choir and band. And he's accomplished that feat three times to date. Of course, he would say, "It's really about the students, the memories, the music, the music department goals (Glorify God, Show the Love of Christ to Others, and Sing/Play with Excellence), the families, and the school. I'm just grateful to be part of this great season!"
Whether you're a new student to Westside or a current student, we encourage you to join choir and band for the new school year. Help us to build and realize more great musical memories at Westside! Those memories will last your lifetime!
Upcoming Events
Click on each event below to view more

Spring Concert: After the Storm

Tuesday, May 23rd, 7:30 pm, all groups perform. Westside Gymnasium

Wednesday, Nov. 30, 8:00pm - Soli Deo Gloria and West Hills VOX perform

Symposium Coffee on Main Street, Tigard

Friday, Dec. 2, 7-8:15pm, Soli Deo Gloria performs. Downtown Tigard Holiday Tree Lighting begins at 6:30pm, Liberty Park at Main Street. After the tree lighting, there will be 7:00pm After Party at Symposium Coffee with Cocoa, Cookies, Live Music performed by Soli Deo Gloria, Crafts, and Kids Activities! Soli Deo Gloria will perform three 15- minute segments during the 7-8pm hour.

Sunday, Dec. 4, 8:00pm - Concert Choir, Westside Voices and Soli Deo Gloria perform.

Annual Westside Christian Christmas Concert

featuring Concert Band, Concert Choir, Westside Voices, Soli Deo Gloria and West Hills VOX